As with all cities, Los Angeles has its fair share of commercial real estate. The cities urban sprawl may not be a picturesque as the concrete jungles of New York however; at the end of June it was the center for everything to do with commercial buildings. On the 26-28 of June 2015 building owners from all across the country and the world met at the Los Angeles Convention Centre for the Annual BOMA convention. After working with utilities and startups in California in the energy efficiency sector I was interested to find out what the Californian building owners were doing in response to the water shortages in the area. I was also curious to learn about new innovative technologies that were making commercial buildings more efficient in terms of water and energy usage. As a reader of the blog I imagine that commercial energy efficiency this is something that would also be of interest to you. So without further ado here is my experience of the event and a summary of what I learnt.
As I arrived at the convention center I was surprised to see that the BOMA event used up almost all of the available space within the convention center. The trade floor was expansive with venders of all things building related presenting their solutions to the BOMA members who were browsing stands and networking with other members. Stands with everything from construction services to lease management solutions. There were also stands from local utilities that were providing education surrounding the sustainability issues of the area and promoting their incentive programs to the Californian members. This caught my attention and I was interested to see how BOMA members responded to the programs.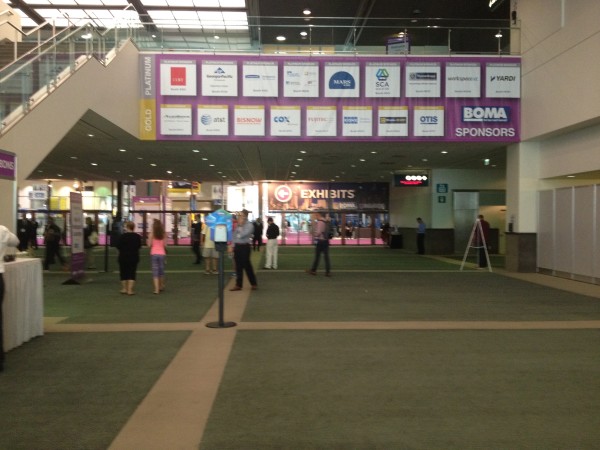 Most BOMA members seemed intrigued by the programs which involved free upgrades however, from what I observed there seemed to be much less interest in the partial funded programs. Many of the building owners had taken part in some of the SoCal Water SMART programs including the High Efficiency Toilet rebates that have been available. With the drought pushing the water efficiency projects into high priority, I noticed that there seemed to be more of a hesitance towards LED retrofits, which would involve a larger scale capital investment. It was encouraging to see more building owners taking efficiency seriously and even more so to see that many have already worked with utilities on projects.
As I browsed the trade floor I was impressed by the size of the "Green" area, which represented venders promoting technology products and services with sustainability and efficiency in mind. There I saw lighting manufacturers such as the California brand DECO lighting, trash reduction technology company EPAX Systems and BETCO with their high efficiency urinal solution.  It seemed that rising utility rates have grown the demand for solutions. As these costs become a larger portion of the total overhead for commercial buildings, the business case for efficiency retrofits gets stronger. Personally, I found it quite encouraging to see the extent of the "Green" innovation and how these solutions had many indirect benefits. Many of the regular BOMA members I spoke to expressed that they felt that the focus on efficiency had increased and some also mentioning that they appreciated the increasing availability of efficiency solutions.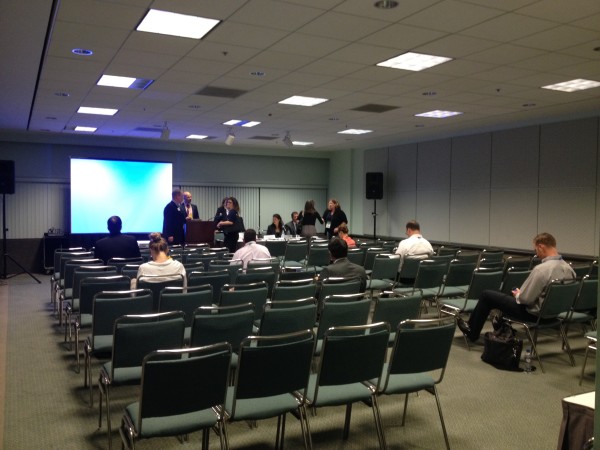 In addition to the trade areas, the BOMA event also provided educational seminars in the conference rooms. Each of these seminars involved experts presenting on industry related topics, which would surely be valuable to any building owner or manager. What I was most interested about was the seminars related to topics of energy management, net-zero building and I also enjoyed some of the international debates. Additionally there were seminars on project financing with the PACE program for efficiency retrofits and solar installs.
I paid close attention to how these programs were being perceived by the building owners and engineers.  Those who attended listened intently. However, I would guess that these members must have already been considering their own projects and there were much less attendees at this seminar than others. The low turnout was somewhat disappointing because what I have found to be one of the main factors that often hold back efficiency projects in the commercial sector is the misunderstanding of available financing options. I've observed many projects not gaining approval because the financing options (which are often zero-out of pocket, paid-through-savings programs) not being adequately explained. Even so I was glad to see these seminars on the BOMA agenda and hope that these topics will gain further interest in the coming years.
All in all I was very impressed with the standard in which BOMA conducted the event. Even without personally being a building owner or manager I was able to see the value that BOMA creates for its members at one of these events. The convention represented a fantastic opportunity for members to network with other owners and managers, learn from industry related seminars and browse vendors and solutions providers related to the industry. Beyond these benefits the event had a very upbeat energy with many great ideas being exchanged at conversations had between seminars and during the lunch break. The attention on "Green" innovation was encouraging and I look forward to seeing the technologies and solutions evolve along with the shifting perceptions on energy efficiency and its effect on conducting profitable business in addition to sustainability concerns.
Become an ECO founder
Start the 30 day ECO founder Challenge (it's free!) to learn how to startup your own clean technology business.
No spam, ever. You can unsubscribe at anytime.