Entrepreneurship is risky business. I'm sure you've seen some statistics that conclude that most startup ventures fail. I've also been terrified by these statistics before, but don't fret. The latest research indicates that this fail rate is not strictly true. As it turns out, only 25% of ventures actually fail in the first year, Entrepreneur Weekly, 2014.
So don't run away from the risk, not just yet. Keep your engineering career but don't let that stop you from moving forward.
Regarding the risk of new ventures, Peter Drucker the famous business author says "Entrepreneurship is "risky" mainly because so few of the so-called entrepreneurs know what they are doing."
So how do you become an entrepreneur who know's what they are doing.
Well, mitigating the effects of any risk is something we engineers have dealt with before. Risk mitigation is a huge part of your engineering career, especially in any construction based project. But what do we do as engineers to mitigate the risk of someone getting hurt or a building collapsing?
We prepare.
By first being analytical about what events may occur and the effects of these events we can prepare in advance for any technical mishaps.
It's the same for our own business education. One way to minimise the chance of being the 25% of startups that fail in the first year is to prepare for running your future business while you are still working for someone else. Because let's be honest. There have been enough entrepreneurial successes to have an idea of what skills are required for you in your industry. But what skills are the essential startup skills that will bring us the majority of the results that we are looking for. That is what I am going to cover in an upcoming free online event on October 1st.
You'll learn how you don't have to quit your day job to gain an education in entrepreneurship. In this live webinar, I'll be revealing the crucial business skills you need to balance your stable job and grow your passion project.
If you are looking to become an entrepreneur or be entrepreneurial in your current firm you should consider attending. I've be covering …
3 Hat's of a Startup Founder
Fatal Mistakes Most Engineers Make in Business and How to avoid them
Essential Startup Skills you can gain on the side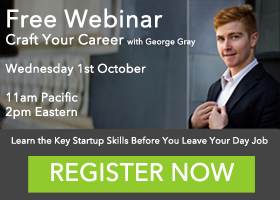 If you are ready to start learning then signup for the event here
Sources: Entrepreneur Weekly, Janurary 1st 2014, Small Business Development Center, Bradley Univ, University of Tennessee Research