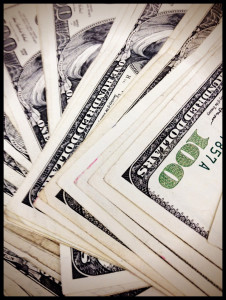 "I have some great technology but no money, how do I get the project off the ground?"
Great technology is nothing without great execution.
You may have some great innovative technology that is able to offer users meaningful benefits. It may have the potential to change the world or maybe change the lives of a select few significantly.
You can see the potential of the technology and it excites you. It keeps you up at night and motivates you wake up in the early hours of the morning.
However, having inspiration, drive and some innovative technology isn't the full package. You need more in order to get the project up and of the ground. When you look at the cold hard facts of what it is going to take to get the project up and off the ground you notice there is something that you are sure to need.
R&D Funding.
Even the most innovative and driven entrepreneurs require funding from external sources when they are just starting out. We entrepreneurs take pride in being able to do a lot with very little, but there are limits to the bootstrap approach.
The first place entrepreneurs generally look for funds is there personal cash. This is a great idea as keeping a high ownership in you business can pay off significantly in the future if your venture is successful. The second place is generally your own family who give loans in good faith out of love and support.  The next is friends that trust you and believe in you to produce results. The last approach is approaching what is called the foolhardy.
The foolhardy is termed to describe the external partners that might be interested in making an risky investment in your new found startup with the prospect of high returns on their investment. No, they aren't fools but they are less risk adverse than your aunty or grandparents probably are. These individuals are either angel investors (invest under $1m) or venture capitalist, VC, investors (invest over $1m). These people are excited by profitable exit strategies that could financially reward them for the risk they took in starting the venture.
While it's true that you need money to get a startup up running you don't necessarily need to begin by looking to the foolhardy category. Whether you choose to seek external funding through investors or not you should first look to exhaust a category which I haven't mentioned and which applies specifically to clean tech ventures.
Government Funding
Now to make it clear the government does not provide free money to founders. As the famous economist Milton Friedman said…."There's no such thing as a free lunch". So if you are a founder looking for R&D funding from the government to start your soon to be multimillion dollar venture… you are going to want to think about how your venture can help the government achieve their goals.
There are a number of different ways ventures can help large organisations such as governments achieve their goals. It really comes down to how your venture will benefit society. The first step to gaining government funding really comes down to having a clear understanding of the benefits your technology or business will have on society.
Think about what your big picture goal for your technology or business. This understanding will help you pitch to for grants and funding. Is it to create more green jobs? Maybe it is to help your state meet it's environmental goals.
The second step is to start looking at whats available. In the US there are a number of different grants specifically related to energy efficiency, renewable energy or sustainable technologies. Most startups have trouble finding an angle to gain government funding for projects, however clean tech and other "high tech" innovations have a much better chance of gaining funding through government grants. Every business is different and will have different need regarding funding and government grants but the best place to start will be the Small Business Innovation Research site and the Grants.gov page.
Look through these sites and take note of the grants and projects that are relevant to your technology and it's application. Remember to think about the societal benefits you can provide with your venture.
The third step is to do some research about the availability of funds. How much funding is currently available for the grants and programs you are look to apply for? Do some background research and find out what you can about the budget and allocation of funds from these programs. If you are looking to gain funding from a specific grant then take a look at the past grants and learn what you can from their success. The more you know about how the funding game works the better prepared you will be for your own application.
The forth step is to apply. With all of the information about the larger societal impacts of your technology, the available grants, the current allocation of funds for those grants and the past successful candidates you'll have a pretty good idea of your chances of success. Then use this understanding to create a winning application. Most applications forms do not allow much creativity and personal flare but it is a good idea to have something that stands out in addition to your great idea.
What grants are available for newly founded cleantech companies?
Let's look at an example of a grants that is currently available and how you might best go about applying for funding.
Example Company: Energy Efficient LED Bulb Technology
Example Grant: Advancing Solutions to Improve the Energy Efficiency of U.S. Commercial Buildings
By reading through the programs synopsis you can see that the underlying goal of the Building Technologies Office Commercial Building Integration Program is to meet DOE's national energy efficiency goals for commercial buildings (20% improvement by 2020; 50% by 2030). So for a LED bulb technology to apply for the funding they would want to persuade the decision makers who grant the funding that the company will be able to help them achieve this goal. The company would want to investigate what funding is available and who the past successful applicants were. Once this has been established they would want to then craft a winning pitch explaining how the company will help reduce the energy consumption of commercial buildings. 
The bottom-line is that if you have some innovative technology that has benefits for society at large then it is likely there will be some government funding available. It may not be the easy to gain the funding but if you use what I have described here in this article you'll be on your way. There is a final step which I'll conclude with…
Persist.
The follow up is important. It is difficult to get the attention of people within government organisations but you'll want to follow up regularly to ensure the success of your application. Find some decision makers names and request to speak with them directly. Again this maybe difficult but the best chance for your proposal to succeed. Hound them down and always try to reach those decision makers first.
Funding can be the lifeblood of an early stage startup and knowing how to gain R&D funding is a startup skill that all successful founders have had to learn. By all means bootstrap your venture but remember to leverage those government grants to fuel your business.
What funding program will you target?
P.S. The Engineer to Founder Book has been released! Start learning now and go to this page
(For the first 50 I've got it as a pay want you want – so if your quick you can get it for free. Also – for a limited time you can use the coupon code "subscribers" and receive a $10 discount.)
Become an ECO founder
Start the 30 day ECO founder Challenge (it's free!) to learn how to startup your own clean technology business.
No spam, ever. You can unsubscribe at anytime.