As engineers and scientists, we love research. There is nothing more that we enjoy than finding some new scientific conclusions. For me, I love to dig in to some new research, whether it be on some new clean technology, energy efficiency, chemistry and even stuff about how the human body performs in different environments.
However enticing different types of research are; when you are launching a business you must be focused.
This means you must narrow your focus on only areas in your business that are high leverage. You must apply effort in areas that will drive the maximum results to your business. One of these area's is market research. This is because understanding more about your customers helps you to effectively meet their needs.
But before we go into a actionable, step-by-step approach to market research let's first look at a tech company that is an famous example of poor market research.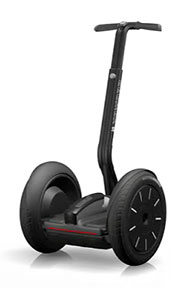 I'm sure you are familiar with this electric powered two wheel device.
No not an electric bike, but the Segway. However novel and different the innovation was, there were a number of reasons why the Segway did not succeed in the market place.
One reason was that the creators of the Segway had a perception of their product that contradicted the customer perception of the product.
The gap between what the company thought of the Segway and what customers thought of the Segway was huge.
The Segway failed due to poorly executed market research.
Everything from demand to pricing was not based on market research as much as it was based on intuition. But intuition failed in this case and the product was far less popular than originally predicted.
So what can we learn from Segway's mistake?
You need to complete market research and use it to guide the direction of your product. Intuition with out a basis in research often fails. Think of claims that are made without conclusive scientific data, you probably wouldn't believe them would you. This is the same as someone from the outside looking at your business. They don't care how much you believe your idea is going to work, as much as whether you can prove that it will. You must gather an idea of who your customers are and what they want. Companies that complete effective market research and testing have the opportunity to learn from their customers and to iterate their product as feedback is collated.
The Segway example is a common trap that many engineers in business fall into. Creating something that doesn't have any market demand. To really understand market demand for a product we want to research the customers that we are aiming to solve a problem for. Once we understand the customers and what is valuable to them, its much easier to get a accurate grasp of the overall market demand.
Now in this post I'm not so much going to talk about why you need to complete market research, I think that you've probably already got a good handle on the why. This post, is specifically about the how of market research. We are going to cover the different tools and resources you need to gather valuable market research.
Start by using…
First let's quickly look at what we want to achieve with research.
find what the customer wants?
what the customer will buy?
what the competition is doing?
what is working for the competition?
There are two types of research that you can use to achieve this.
Secondary and Primary research
Secondary research is observing trends and data that has been collected by someone else. Primary research is conducted internally by interacting with potential customers directly.
Because creating successful startups is all about applying effort to the 20% of tasks that brings 80% of the results, in this post we are going to look at the main steps to complete basic market research.
The first step is based on secondary research.
How to get to know your customer through observation
This is based on researching, watching trends and by finding where your target customers hangout. The first step is to complete some web research upfront.
Upfront Web Research
This upfront research will help you get a general idea of who your customers are and what they want. The aim is to find out what people are already asking for, find out where they hangout and to use this information to determine what to ask in surveys that we will be completing at a later stage of our research. Use these resources below
Free tools for Web research
From your upfront web research you want to be able to …
Estimate whether their are people struggling already with the problems you wish to solve with your business.
Gauge how much of a pain point this problem actually is for people.
Identify 3 of the most popular places that your customers hangout.
Finding the most popular places that your target customers hangout is vital. These places can be online and offline. Offline could be trade shows, conferences, and meetups. Online examples include social media, forums, and blogs. Again because we want to focus on high leverage tasks, focus on the 3 most popular places with at least one that is offline.
Online Places
Search through: linkedin, facebook, google+, twitter, quora, reddit, relevant blogs and forums.
Review the 3 most popular places daily to see trends and identify pain points, comment on relevant posts, share relevant content to others in your industry, reach out to other people for advice, and it is important that you start to create a media-list for when you launch your product or service.
How-to gain market information from Social media
Search Social Media sites, blogs and industry forums to find the influencers in your field. Look for relevant people, groups, comments, companies, hashtags.
Select the most relevant influencers and groups to follow, read their content and check their blogs.
Share relevant content that you find. The influencers and groups will appreciate it and you'll boost your own credibility.
After some time you must begin to share your own thoughts: start discussions and correspond with people who enter the discussion.
Once you've gained some credibility, reach out to influencers in your industry. They may not reply but most of the time they'll want to join in with the discussion if it is relevant to them.
Offline Places
In order to gain some further knowledge of you industry and the marketplace you intend to enter you'll want to go out to meet and talk with people in person. Pick at least one meetup, conference or trade show to attend in the near future.
Here are some resources to find one near you:
Trade show search sites such as 10times and the Trade Shows News Network are a great way to find a trade show or conference near you.
Meetup.com is a great place to find community groups and professional groups near you.
Scan social media sites for events and look out for tweetups and facebook events.
Look up the trade shows you've missed or cannot attend and view the archives online
How you should attend in person events:
Do your homework on social media and look at past event information. Check on twitter before the event to see what people are saying about the event.
Research all the exhibitors and speakers, the decide who you want to talk to ahead of time. Is is the exhibitors, speakers or the attendee's? Look them up online and memorise their faces so that if you walk past them you'll be able recognise them in order to talk to them. Clarity will help you stay focused at the event.
Beware of the sales reps at the exhibits. Many companies send their sales reps to attend so if you want to talk to management or executives you should fish out their contact information and push to schedule an appointment.
There is no point talking to the press while you are in the stages of market research. You'll want to talk to them later when you have a solid product and a customer base.
You'll want to gain list's of…
the influencers, groups and forums related to your industry
the existing competitors and companies in your field
contacts and connections made at these events
From both online and offline you'll want to be sure that you know where you can reach potential customers, the problems they are having, and even make not of the language they use to describe their problems as this will help you later on with the marketing aspect of your product or service launch.
Summary: Make sure you have a list 3 places to make observations of your customer and your marketplace. Then make note of these observations and build creditability and connections within your industry.
Now let's look at how to gather some primary research…
Getting to know your customer through conversation
Some of the most valuable information you can gain is through conversation with your potential customers. From observation of trends and from the conclusions you draw from your upfront research you'll have a fairly good idea of what is valuable to your customers. But it is very important to test these assumptions. In this section we are going to look at how to gather primary research.
There are two ways to directly test your assumptions with your customers. The first one is going to focus on quantity gaining a large number of data points through an online survey or social media polls. The second is a much more detailed approach that involves personal conversations with potential customers.
Online Survey's
There are a number of ways to gather feedback online. You must choose the platform that is most relevant for your audience. If your potential customers are hanging out on linkedin then having a linkedin poll will probably bring you some valuable information. The beauty of online surveys is that is it very easy to gather a large number of data points as the survey is easily scaled across the net unlike in person surveys.
The aim of using online surveys is to…
test assumptions
gain product idea's
confirm your assumptions made from upfront web research
refine your message
to gather access to potential customers.
Use the information from your upfront web research to help you make decisions about which platform to use and to determine what to ask in your surveys.
Here are some platforms for creating an online survey…
Free Resources:
Google Forms: many designs, have multiple editors, embed into website and you can share across social media.
Social media polls: facebook and linkedin both have their own polling system which you can use as a free online survey.
Paid Survey Services:
There are some low cost options that you can use for gaining access to targeted markets. This can be a great way to get some more valuable information without spending thousands on market research.
For Business to Business Markets (B2B)
Think Speed: Access to a prescreened audience. Surveys cost any where from $3 to $5K
For Business to Consumer Markets (B2C)
SurveyMonkey Audience – From $1.00/response for general population or ~$2.50/response for standard demographics (gender, age, income, education, employment, location). Requires professional plan (from $26/month)
Crafting your questions.
In order to run an effective survey you'll want to be very specific about what you want to achieve by completing your survey. Then you'll be able to craft simple yet specific questions. Make sure that your questions are fully understood by your target audience. To increase participation consider offering a promotional product or resource to increase audience participation.
Post your survey in the most popular online hangout spots for your potential customers that you identified in your upfront web research.
Talking to Customers Directly
All of the previous market research has been leading up to this. Talking to customers is the qualitative section of your research where you will learn the most about your potential customers and what they want. The key here is not to ask specific questions at all. You want to start a conversation with customers and encourage them to talk about the challenges they faced.
The purpose of talking to customers directly is to…
Learn about the subtleties of the problem you wish to solve
Gain idea's for your product and how to create more value for your target customers.
Make note of the language used by correspondents to be used in your marketing
Learn about the hopes, fears, and dreams of target customers so you can talk to them on a personal level through your marketing.
Most importantly to determine a better product/market fit.
Ask 3-5 general descriptive questions that encourage them to talk about their challenges, issues and pain points surrounding the problem you wish to solve with your business. The art is to gather the answers in the most indirect way. Asking interviewees to discuss their experience surrounding the problem is the best way to achieve this.
You'll want to ask questions like…
"Tell me about when_____?"
"What was it like to________?"
"What are your toughest challenges with ______?"
"What issues do you run into when you______?"
Avoid asking customers directly if they would pay for a solution. Because customers buying behaviour relies on impulsive desires often they will answer yes when interviewed, but this does not mean that they would necessarily pull out their wallet to buy it once you've created the solution. Instead realise that you can learn more from qualitative indirect questions than you can through questions that are close ended.
So try to ask more indirectly by using questions such as this…
"How much time, energy, and money did you waste on things that didn't work?"
Once you've created some open ended questions go out and talk to a bunch of potential customers and use audio recordings to capture the responses. You'll want to use these recordings again and again so best to store these for future use. You should look to find areas where you can reach many people at once. Do as many in person as you can but then reach out via phone or skype. This will be time consuming process but it will have the largest impact. These responses should guide your decisions for creating a valuable solution for your target customers.
Starting a conversation with potential customers will help you to build some thing really valuable to your customers. When you create something with superior value, the selling and marketing further down the road will become that much easier.
Don't fall into the trap!
Many engineers love to create technologies the way they like it without taking into account the needs and want of their target customers.
Market research is a tool to avoid that mistake.
Avoid being a Segway. Avoid risking all the time, money and effort it takes to create a product by first doing some well planned market research. It is important for a company to close the gap between how they see their product and how the customer see's it. Because when you are in business there is no higher authority to validate your work better a group of loyal and paying customers.  Be willing to find out who they are and what they want.
Although a technology might solve a engineering problem it must also solve a customer problem in order to SELL! 
If you want your technology to be more than an amusing novelty then go out and learn from you customers, connect with them and start a conversation.
Get The "Research Your Customers" Worksheet
Join me at ECO founder and I'll send you the "Research Your Customers" Worksheet
Everything you need to collect your market research, all on one page.
Just enter your email below to get the free PDF
No spam, ever.